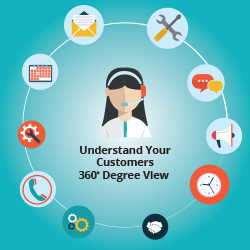 In today's competitive and volatile world, the customer has emerged as the vital factor while taking any crucial business decisions. Technological advancement due to internet era is keeping the customer well-informed. The dynamics of the competition are rapidly changing which has necessitated understanding your customers completely. While multiple factors need to be considered, when it comes to OEMs, there are a few more important than others.
Customer Engagement
Digitization has been the revolutionary factor in almost all the industries. For instance, the online revolution in the auto sector has resulted in almost 80% new car and 100% used car buyers to rely online. It compels OEMs to create strong and engaging online presence to attract and retain its customers.
Customer engagement also plays a key role when it comes to dealer engagement as they act as the face of the OEM manufacturers in front of the end-customers. The dealers can be effectively engaged by offering exclusive territories for increased promotion, cutting off weaker dealers and retaining the high performers, providing training to enhance their sales team skill, offering individual support, providing centralized and real-time information regarding products and spares to provide improved customer service. Excellon Software's dealer management system (DMS) effectively manages the dealer network and effectively engages them to provide a win-win situation.
Building a successful customer experience
Customer experience leaves a long-lasting impression and thus, plays a significant role. In recent times, increasing use of internet-based technologies like telematics will open an entirely new avenue for instantaneous customer communication and will offer enormous opportunities to maintain customer relationship beyond the initial vehicle sale. However, at the same time, it will emphasize on the need of equally strong CRM system to store and manage consistent customer information.
Customer Viewpoint
Understanding customer view and eliminating the pain areas is immensely important. The decisive elements such as the product, its brand image and the buying process have been shifted towards the experience during the interaction with the manufacturer or retail organization. Changing customer behaviour expects premium services and a higher level of manufacturer interaction at all the time. Thus, it is imperative for the OEMs to provide multiple touchpoints to their customers like websites and social media.
Services
By replacing disconnected processes based on phone tags and paper forms with continuous and automated ones, OEMs can not only streamline their maintenance operations and reduce downtime and warranty costs but also strengthen the long-term customer relationship. By implementing robust service management software like Excellon5, they can grant access to real-time data visibility that can help them serve their customers at the right time and place. Business intelligence facilitates you to understand your customer preferences in depth and guides you to serve them efficiently.
Understanding your customer can greatly help you win customer loyalty and in turn, repeat business in long-term. This customer centric success can never be underestimated as it is the determining factor that can always give you an upper hand over your counterpart.
About Excellon Software
Excellon Software is recognized as the most innovative software product company from India. The company's product portfolio encompasses a complete dealer management system, sales & distribution management system, aftermarket management software, automotive eCommerce solution, and B2B B2C mobile apps. Excellon Software products are used by over 30,000+ users in over 7000+ locations worldwide. Excellon Software is also a GST Suvidha Provider (GSP). It offers GST Software for GST return & management and E-Way Bill.