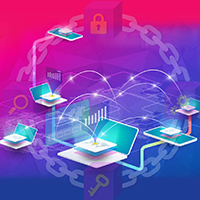 Often owning a dealership business does not pay you back the way you had hoped it would. For instance, there can be times where you have served a lot of clients but gained nothing more than a few bucks. This is often normal because of the human error, procedural delays and inefficiency due to lack of technology. But would you not like to eliminate these mistakes and boost your business with the help of digital transformation. You would be surprised to know that with the next-gen technology blockchain, this is quite true.
What is blockchain?
The blockchain technology records the transactions to a digital lender where it is not possible to change or alter them. They are linked with the help of cryptography. The information on the blockchain can be verified easily and is open to the public. Another huge benefit is that the data is decentralized and is shared with all the computers on the network.
How can you improve your business attributes through blockchain?
Many sales management software applications are built on this technology and can help offer a lot of DMS solutions to improve the business. The following are a few cases where it can be employed:
1. Know Your Customers Better
Reliable identity management is one of the features of the blockchain. Your customers would have digital IDs which would make it easy to identify them. If stored on a blockchain network, it is protected from the risks of money laundering, identity theft or other cybersecurity concerns. The information on blockchain cannot be changed, allowing people to take control of their personal data. Efficient service management software will help you to identify loyal customers and learn more about their spending patterns.
2. Manage your dealers seamlessly
Blockchain-based solutions have proven useful.& manages the dealers spread in diverse corners of the word seamlessly. For example – if we talk about blockchain for the automotive industry, a dealer management solution (DMS) based on this technology enables easy access to OEMs to manage their vendors and dealers. The supply chain becomes faster and transparent with this.
3. Improve the marketing campaigns
Blockchain can help you to make marketing efforts more effective. A blockchain based sales management software can help to keep track of client information and consumer behaviour, which would help clever marketers craft better campaigns with higher ROI. The changes made to the campaigns can also be identified. Also, blockchain will help to identify that the traffic they attract is real.
4. Smart Contracts created through the blockchain
A smart contract is a self-executing contract that would have the terms of all the parties written directly in the system. The code and the terms of the contract can be seen on a decentralized blockchain network. The smart contracts ensure that all the parties in the agreement do what they need to. The self-automated programs are not interfered by other parties and run without downtime. It ensures that you get paid after delivery and if the other party backs out on short notice, your goods and services are returned.
Blockchain technology enables creating reliable Next-Gen software, which would eventually be taking over the everyday processes in diverse industries helping them stay a step ahead of competitors.
About Excellon Software
Excellon Software is recognized as the most innovative software product company from India. The company's product portfolio encompasses a complete dealer management system, sales & distribution management system, aftermarket management software, automotive eCommerce solution, and B2B B2C mobile apps. Excellon Software products are used by over 30,000+ users in over 7000+ locations worldwide. Excellon Software is also a GST Suvidha Provider (GSP). It offers GST Software for GST return & management and E-Way Bill.
To know more about Excellon Software Pvt. Ltd., please visit the website https://www.excellonsoft.com