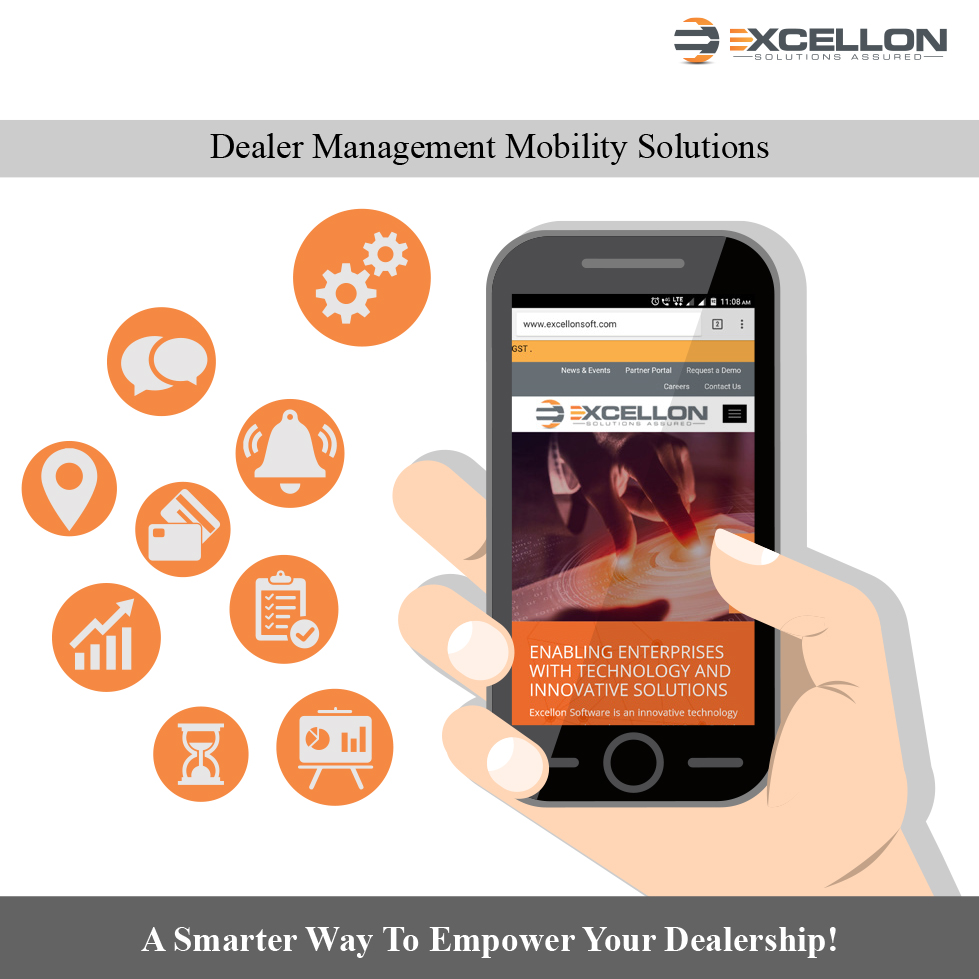 Whether it be automotive, industrial equipment, consumer durables, or retail, or anything else, Excellon 5 dealer management software will efficiently take a business a notch higher by enabling a rich and rewarding customer experience. Excellon takes pride in offering solutions for almost every segment.
Let us have a look:
Automotive Industry Solutions
The days are gone, where the automotive industry had a product-driven approach. Now there is a paradigm shift in the industry to keep customer loyalty and to adapt the dynamic customer behavior and expectations with a customer-centric approach. With the proliferation of Big Data, Social Media, Analytics and Cloud, and Mobility, consumers nowadays are well-informed and more connected than ever. Automakers have started embracing new technology and devising tactics for enhancing the buying experience and building customer loyalty. From checking out the latest offers to obtaining the best quotes, searching for the best dealer location to booking & tracking services, Excellon's automotive dealer management system makes it easier to manage dealerships effectively.
Consumer Durables Management Software
The Consumer Durables industry is gaining prominence over the last few years. Though the surge in demand for innovative and new products, the market is expected to witness growth soon; there are several challenges. Strong competition and rising costs of raw materials are likely to create hurdles in the sector. Excellon offers dynamic and unique software solutions to beat the issues faced by Consumer Durables Industry today. Consumer Durables Management Software features the ability to offer real-time data access helps in responding quickly to price changes and fluctuating demands. This gives companies an edge to stand ahead in the competition.
Industrial Equipment:
Industrial Machinery & Equipment is a highly fragmented and progressively more globalized industry. The industry is undergoing substantial changes on account of customer behaviour trends and new technologies. Excellon offers a powerful, comprehensive solution that helps align supply and demand. It helps transform the business with manifold benefits like streamlining operations, supporting efficient supply chain planning, optimum inventory management, efficient procurement, and thus keeping business keep up with customer expectations.
Software for FMCG Industry:
Fast Moving Consumer Goods industry has lots of processes that work as a chain, and turnaround time is very quick. Furthermore, maintaining a smooth flow of all functions to ensure timely delivery of the products is of utmost importance. Technological advancement and products are rolling out very often. It is essential to abreast of the industry. Excellon's powerful, comprehensive FMCG software helps meet and exceed all the business challenges by providing real-time access to critical data and intelligent reports, thus making decision-making quicker and easier.
Software for Retail Industry:
This is one of the highest-grossing industries. Day by day, managing and handling the ever-growing demand is putting a big challenge to the industry players owing to several factors like the surge in the customer's buying power and proliferation of the urban population. Excellon's comprehensive retail solution helps improve current distribution systems. By incorporating digital technology and mobility into the in-store experience certainly makes the difference.
Summary:
The automotive industry is going at a fast pace. Changing market demands and booming technology has made it essential for businesses to improve their efficiency in all aspects of their business. Dealer management software has been developed with this need as a core of the effort. This fully integrated technology helps streamline dealer networking, product orders, sales and customer tracking, inventory management, and lots more. A dealer management system proves to be a useful and efficient tool for providing services while justifying costs.
Excellon is a renowned name in the industry that is helping manufacturers of any type who need to communicate across multiple locations and manage the selling and servicing of products for the last two decades. Excellon's solutions allow businesses to communicate across their dealer networks and minimize errors and thus enhancing the ability to provide services. If you are a manufacturer/dealer looking to integrate and streamline business processes and communications, then choosing Excellon as your partner for an effective solution will certainly help you spell success. Get started now!