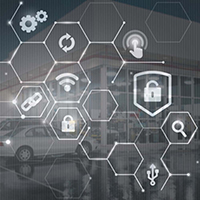 Today huge chunks of user data are available which can be used to the benefit of businesses. Though data analysis and machine learning, business owners can identify the buying patterns of users and predict their choices. Business Intelligence can greatly contribute to the performance of dealerships and improve management decisions. Better marketing campaigns, innovation and higher return of investment through the products being offered from Excellon.
• Develop a better understanding of your customers
Business Intelligence is experiencing rising demands as it offers the tools to understand how customers interact and help businesses to deal with them more accurately. BI for dealership can boost sales statistics and offer the intelligence necessary to adapt your business to the desires of the customers. CRM solutions can enrich the user experience and offer detailed insight into buyer behaviour.
• Improve your sales and marketing campaigns
The smart BI platform from Excellon DMS software, offers an in-depth analysis to kick start sales and improve the performance of your marketing entity. It will help both the teams work better and in unison. It can help the salespeople with the tools to measure their activity and identify the trends in customer behaviour. With better visibility on sales information, the marketing team can fine-tune and target the marketing campaigns properly.
• Improve productivity and data accuracy
Excellon can provide business intelligence tools for dealerships that can take care of inefficiency bottlenecks and refine the business processes. There will be noticeable productivity and efficiency gains. Also, centralising data will improve transparency, exposing the flaws in the system. The improvements in business returns will act as a key performance indicator and eliminate unnecessary risks.
• Improve Return-on-Investments (ROI)
ROI is a factor that can be controlled better with a culmination of all the other points. Better sales metrics, managing efficiency, analysing, modelling and developing growth strategies will improve the return on investments. Business Intelligence is being used by most institutions today to captivate their markets and can be a crucial step in your development.
• Create an amazing customer experience
One of the most important criteria that businesses need to fulfil today is maintaining customer relations. Customer experience serves as a key playing card for marketers with most of them trying to base themselves on the basics. Dealer business intelligence helps in improving overall customer satisfaction and retention. Businesses can have enhanced customer service response and allow businesses to spot a customer in the 'buying mode'.
A business intelligence platform can help dealership or a company on several fronts and create a unified system that can create better customer satisfaction and generate higher returns.
About Excellon Software
Excellon Software is recognized as the most innovative software product company from India. The company's product portfolio encompasses a complete dealer management system, sales & distribution management system, aftermarket management software, automotive eCommerce solution, and B2B B2C mobile apps. Excellon Software products are used by over 30,000+ users in over 7000+ locations worldwide. Excellon Software is also a GST Suvidha Provider (GSP). It offers GST Software for GST return & management and E-Way Bill.
To know more about Excellon Software Pvt. Ltd., please visit the website https://www.excellonsoft.com