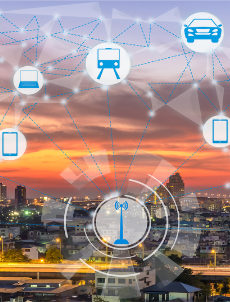 Today enterprise mobility is not an option, it has become a necessity. If you want your business to survive and grow, you need to automate your business operations through the next-generation mobility platform. This will not only help you to enhance customer experience but increase productivity and enhance connectivity. With technical support from Excellon, an end-to-end business ecosystem can be improved with the help of modern technical intervention.
A Right Approach with the Right Tech
Automation in business requires efficient ways in which the data and information can be sent to a remote technician for the correct action. If coupled with the right technology, mobility can help to create well-rounded tools that help customers to stay informed and have the right advantage. A proper mobility solution will lead to the digitization of dealership and help with business ecosystem automation. Data-centric approaches improve visibility and streamlined communication with the service technicians, improving real-time access scheduling.
IoT and Cloud Solution help in Remote Resolution
The next-generation mobility platform from Excellon is the perfect way to bring automation to your business. IoT has become the norm for most businesses. It brings forth a connected world that operates at better health and efficiency. It even means less downtime as organisations can take a real proactive approach during the right time. It leads to the evolution of an excellon connect platform. Cloud solutions can even improve inventory management. Employees can enjoy better collaboration and data and information is shared faster. This even improves the security of the network and lead to automation.
Embedded Analytics ensure proper feedback flow
Data analytics is the only way to have fast and timely action on vast data fields. Using modern analytic tools can help you to automate a lot of functionality. Thus warranty audit and claims tracking get better with the help of automated systems and embedded analytics. It will even increase customer loyalty. Thus the insights on performance, service quality and tasks can be improved with improved visibility of the management.
Predictive maintenance minimises losses
Excellon creates products that enable connected devices to emphasize on preventive maintenance and not correct things after they have gone berserk. It empowers the organisation and offers better customer service with no downtime. No need to say it will not only improve CRM but offer a better dealer experience through a connected and healthy ecosystem. The foundation between the business and customers would be strong. Having such a network can help you create a strong business ecosystem.
The system is stabilised by Network Reliability and Security
A secure system will not only ensure the safety of the organisation but even protect the personal details of customers. Security concerns are always a primary issue within the organisation. Proper customer feedback tracker is easier to implement when network reliability is a virtue of the system. Neglecting the requirement of a reliable network can decrease productivity and make the devices much less reliable.
A balanced business ecosystem is much easier to automate. The next generation mobility platform from Excellon can help you automate your business and make life simpler, better and easier.
Summary – Pouring automation in a business ecosystem is a necessity these days. With the size of datasets getting bigger and bigger, the next generation mobility platforms can help you organize your business ecosystem and drive better results.
About Excellon Software
Excellon Software is recognized as the most innovative software product company from India. The company's product portfolio encompasses a complete dealer management system, sales & distribution management system, aftermarket management software, automotive eCommerce solution, and B2B/B2C mobile apps. Excellon Software products are used by over 30,000+ users in over 7000+ locations worldwide. Excellon Software is also a GST Suvidha Provider (GSP). It offers GST Software for GST return & management and E-Way Bill.